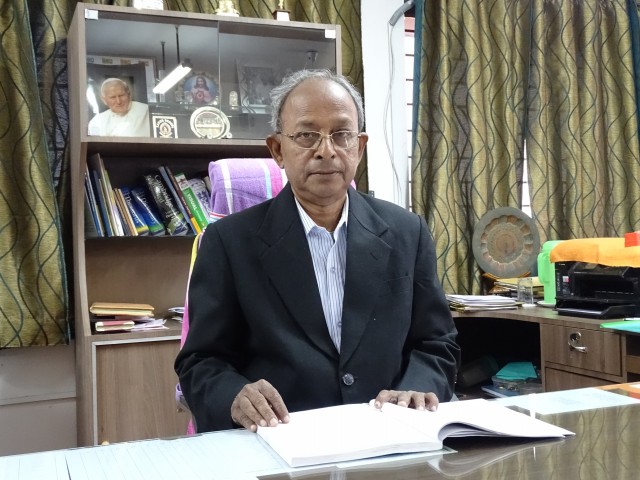 Dear Friends,
Xavier School, situated at Gamharia is a unit of X.I.T.E (Xavier Institute of Tribal Education), a registered society established in 2003. The school was established in 2012 and is run by Jesuits, members of Society of Jesus, a religious Society founded in 1540. From the beginning Jesuits were involved in secondary education. During the 16th, 17th & 18th centuries Jesuits were called schoolmasters of Europe because of their numerous schools and their system of education.
A Jesuit institution is, first and foremost, God-centered. Its motto is AMDG – For the Greater Glory of God. It acknowledges with reverence its dependence on God's Providences. Since all its enterprises are supported by God's grace, it follows that its achievements are credited to God. Jesuits are motivated, and in turn motivate their collaborators to develop sensitivity to God's presence and power and to give God due praise and honour.
The late President of India, Dr. APJ Abdul Kalam often talked about his education in a Jesuit institution, St. Joseph's College in Tiruchirapali, paying tribute to the teachers who shaped him.
There is a typical Jesuit term which is loaded with meaning : MAGIS. It is the Latin for more but it is interpreted by Jesuits as 'striving beyond limits'. It is excellence plus ! Excellence means endeavoring to 'be the best' and 'do our best' not merely within the limits of what seems humanly possible but going beyond it by the power of the spirit within. People with the excellence plus mindset do not measure their progress against an absolute standard but rather explore the fullest possible development of their personal potential at each stage of life, coupled with willingness to continue this development throughout life. Excellence is a process not an end itself.
Xavier School as an institution strives for excellence. It achieves this through a common goal. It requires that all who are associated with it should have an unwavering commitment to this goal, genuinely believing they can achieve it and each member feeling he or she has a meaningful role to play in pursuing this goal. Each must stretch himself / herself to accomplish the objective.
Collaborators in Jesuit Institutions are considered as companions rather than employees. Jesuit companions / collaborators have the responsibility of making every effort to develop their talents beyond the ordinary. They must seek opportunities to stretch mind and imagination beyond limits. They are also called to excellence that is to be outstanding in whatever field of service they are entrusted with. They have to interact and work with collaborators belonging to different religious affiliations. They must perceive God at work all around them. They are expected to be women and men for and with others. Jesuit institutions abide by the principle of Servant Leadership. The higher the status and position, the greater are their obligations and opportunities to serve and to lead others to service.
Xavier school welcomes you to join us in our educational work to transform the society.
With best wishes,
Yours sincerely,
Fr. Kuruvilla V.S.J.
Secretary, Xavier School, Gamharia